Locksmith Service in San Leandro, CA
If you're looking for top locksmith service provider, San Leandro Locksmith Service is here to answer all your worries. We offer reliable commercial, residential and automotive locksmith services.
We are fully insured and licensed so you won't have to worry about anything. With us, it's just one call away that your problem gets fixed the right way at a price that's affordable to you.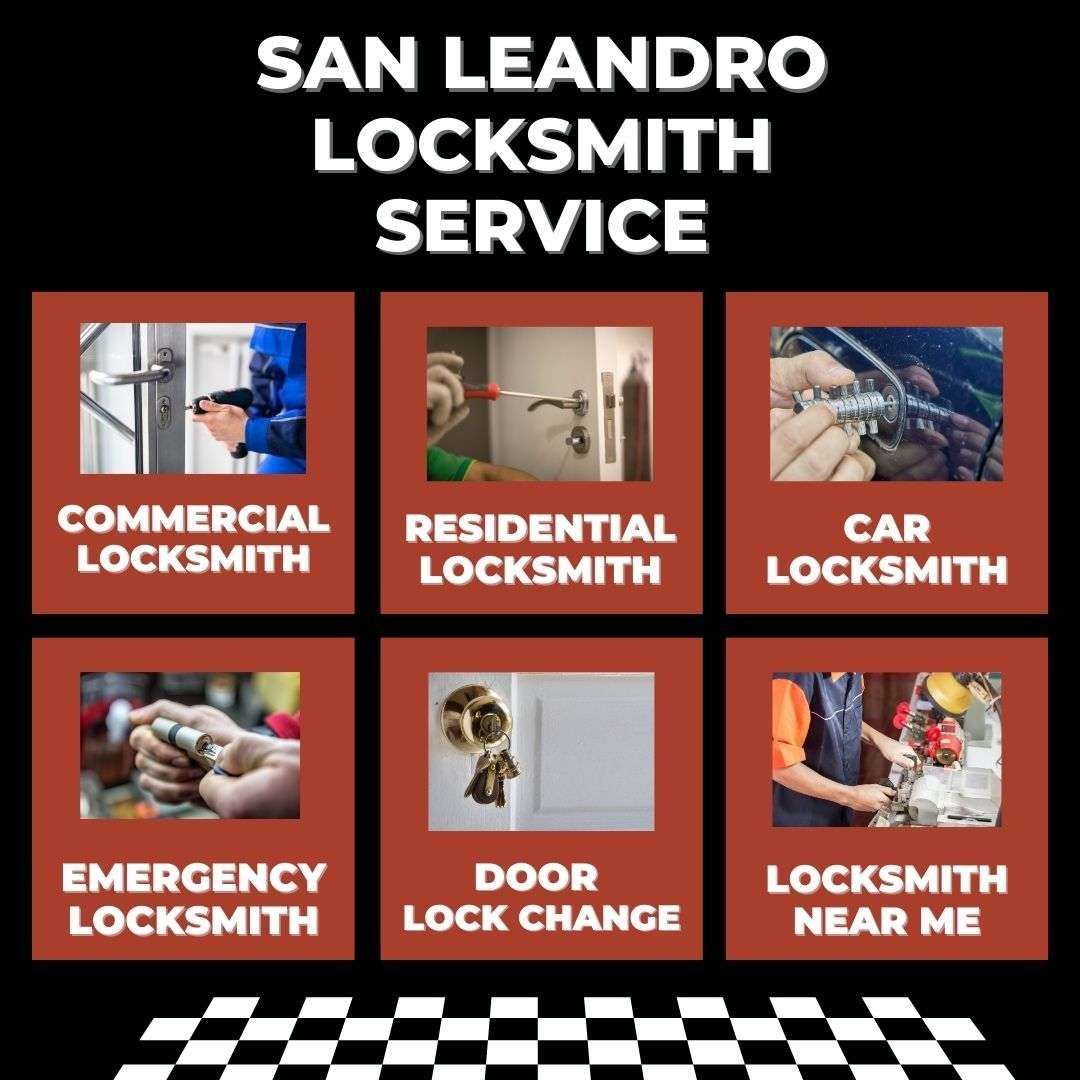 We are committed to solving and providing you with the best and top-notch locksmith services at the lowest prices ever. We stand by our work and the quality of our service because we believe that there is no job small or big for us to handle. Our 24/7 round the clock availability makes us accessible to you even in your darkest hour.
Our services include key duplication, high-security lock installation, rekeying services, deadbolt installation, master key system, access control and so much more!
We are a reputable locksmith company that aims to give you total satisfaction. We can service your needs 24 hours a day, 7 days a week with just one phone call. You may contact us anytime.
Residential locksmith services in San Leandro, California.
We are your one-stop shop for all locksmithing services at your residence. Here is a quick rundown of a few of our best-known services:
Home lockout assistance: Being locked out of one's home is annoying. Our locksmiths will quickly have you back inside.
Lock Rekeying: You can get greater control over who has access to your property by having all the locks rekeyed to accept new keys.
Lock improvements and repairs: We make quick work of malfunctioning locks. Additionally, we can install cutting-edge smart locks.
Key replacement: In a matter of minutes, we can create innovative, precisely engineered keys for your home's doors and other locks.
Commercial locksmith services in San Leandro, California.
Are you anxious about the security of your commercial property? Our team can install cutting-edge locks without emptying your bank account.
Here are a few of our most highly regarded commercial locksmith services:
Locks with a high-security level
We provide highly secure, cutting-edge locking systems for businesses, such as biometric locks and combination locks that ensure complete property security.
Safe and filing cabinet access
Need to access a safe or filing cabinet? We can complete the task without harming your possessions.
Panic bars at emergency exits
Depending on your specifications and the form of your building, we provide a range of push bars for your fire exits.
If the method is supported by your lock systems, we can convert your current structure into a master key system that can be open with a single key.
Car locksmith services in San Leandro, California.
If you ever find yourself locked out of your car, our professional car locksmiths are constantly on call to come to your assistance. We can:
Auto lockout Assistance: Did you close the door on your keys after leaving them in the car? No matter what brand or type of car you drive, our locksmiths can open your doors.
Making new car keys: We can create regular car keys, remote car keys, and transponder keys, sometimes known as smart keys.
Unlock car trunks: It's more often than you might imagine for car trunks to be locked and jammed. Even if you're stranded in the middle of nowhere, we can promptly unlock yours.
Remove broken keys from locks: We have the skills and tools necessary to remove broken keys from locks without causing harm to the occasionally delicate inner locking mechanism.
Ignition Switches: Replace faulty ignition switches so that your automobile won't stall out while you're driving. Yours will either be fixed or changed for a new one by us.
Emergency locksmith services in San Leandro, California.
Your locks and keys are an example of something that doesn't follow a planned path and happens on its own. You never know when a broken lock or a misplaced key will cause you to be locked out of your own house. You may always count on our 24-hour locksmith service to save the day in such unforeseen scenarios.
Our services may offer you prompt solutions in times of need because they are available around-the-clock and equipped with a dedicated emergency team, specialized equipment, and fast mobile vans.
Some of our services are as follows:
Assistance with lockouts

Quick unlocking service

Following a break-in, damage repairs or replacements

Replace lost keys quickly

Rekeying
Contact our friendly, knowledgeable, and professional experts to learn more about our wide range of service offerings.
Emergency locksmith services in San Leandro, California.
San Leandro Locksmith Service has overcome all odds and redefined brilliance in its own right from very humble beginnings. In San Leandro, California's locksmithing industry, the company has been able to ascend to a prominent position today.
It's difficult, but not impossible, to survive in a field with intense competition while building a solid reputation. In all these years, we have consistently prioritized the needs of our customers and have never deviated from this position.
We've hand-selected our teams of locksmithing experts, invested in state-of-the-art machinery, equipment, and tools, and increased our fleet of mobile vans to guarantee that every customer receives the greatest possible level of service.
The success that followed was unavoidable since we had the such superior infrastructure and people resources to support us along with a relentless focus on improvement.
Numerous home, business, and car owners have benefited from the services offered by San Leandro Locksmith Service, who always delivers excellent work at reasonable prices.
Even on holidays and during the times when our consumers needed us the most, we have always been available.
Why should Leandro Locksmith Service be your first choice?
San Leandro Locksmith Service offers an extensive selection of services at incredibly low rates. Our locksmiths are not just excellent at what they do, but also courteous. We are the ideal solution to solve your lock-related problems because of the following features:
Wide area availability: Our mobile staff can quickly and easily travel to any location in Leonardo, California, usually in under 20 minutes. Our lightning-fast reaction times are something we take great pride in. Especially if your request is urgent, we don't want to make you wait for hours on end.
Budget-friendly options: We offer options for all spending levels. You may get economical high-security lock installation from us. We also sell inexpensive car keys. We won't charge you more if you use our services after hours. The quality of our goods and services is never compromised.
Team with experience and friendliness: You can trust our locksmiths to work without causing any harm to your locks or property because they are skilled professionals. We give our locksmiths all the training resources they require to stay abreast of shifting market trends.
Free Consultation: Concerned about locksmithing services? Free consultations are available with our locksmiths, and we'll develop a low-cost strategy for your house. You can use our expertise to keep your property safe from outside dangers. We provide free consultations for house, car, and business owners.
Call us at 510-731-0507 to speak with us right away!