Door Lock Change in San Leandro, CA
Your home and other properties are kept safe by door locks. You could often feel the urge to change the door locks to increase security and privacy in your home. San Leandro Locksmith Services is the most significant business to consider if you're considering Door Lock Change San Leandro, CA to work with for quality services.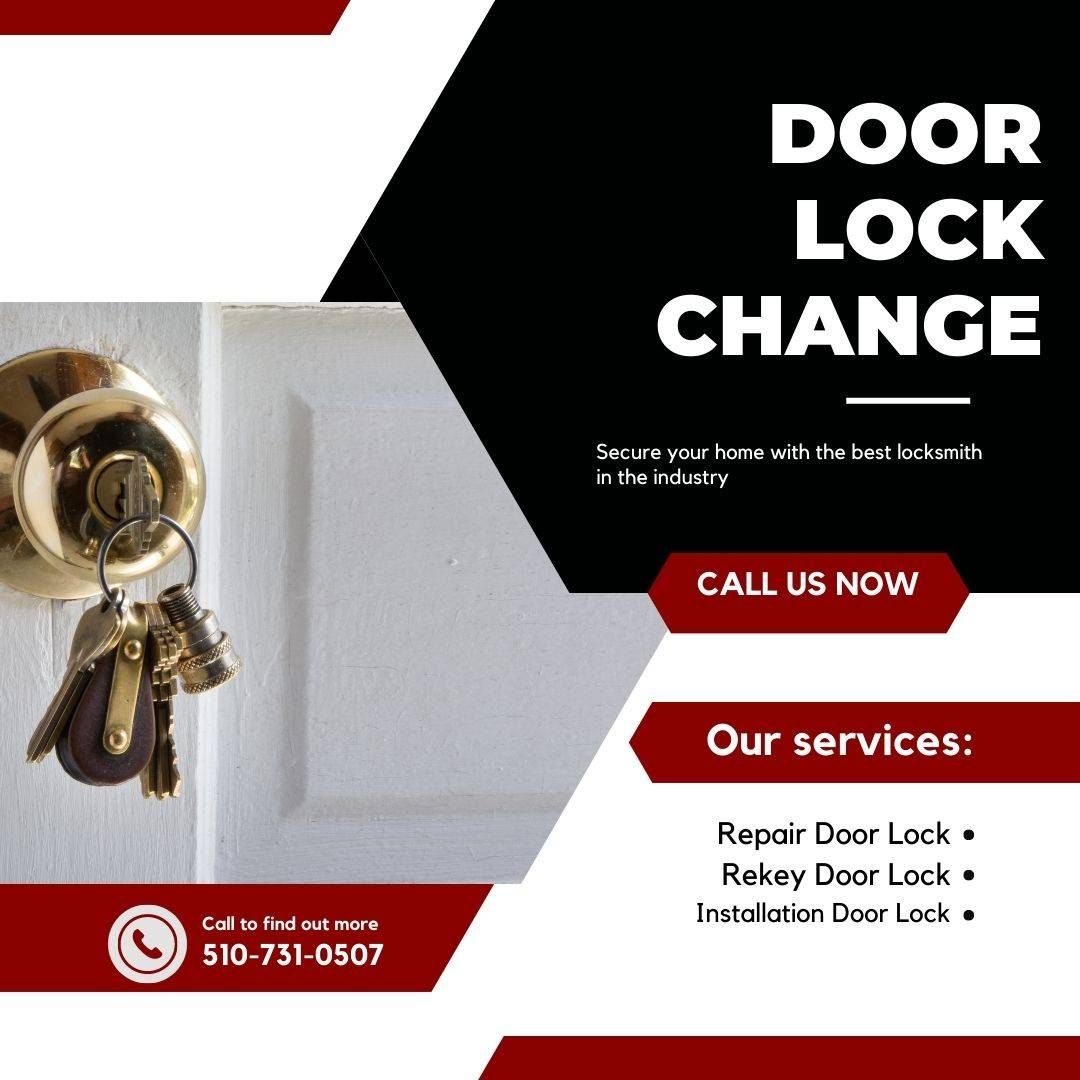 Our company has extensive experience in providing door lock change services to replace door locks, door handles, and door lock cylinders to maximize security in your home. To replace door locks in a way that is both secure and efficient, we employ premium, long-lasting building materials. You can trust that we only provide honest and upfront rates because our locksmith prices are reasonable.
You may need to change your door locks for a variety of reasons. When people move into a new home, experience a home break-in, or misplace their house keys, these are some of the most frequent reasons we hear from our customers for upgrading their home locks. When door locks get too old to work correctly, or homeowners desire an upgrade, we are also asked to change their locks. We are available to help you with your home lock servicing needs, regardless of your specific reason for changing your home lock.
Cost-effective and Reliable Door Lock Change San Leandro, CA

Service
San Leandro Locksmith Service is the ideal business to contact if you need to change any door locks. The main goal of door locks is to offer your home and important things the best possible protection. Use our reasonably priced and reputable service if you should change your current door locks to improve security or privacy. In San Leandro, California, we offer our residential locks service thanks to the best locksmiths in the business. Changes to locks, lock replacements, and lock cylinders are part of our service. We utilize solid and high-quality locks for replacing broken or malfunctioning locks efficiently and securely.
If you want Door Lock Change San Leandro, CA

on your doors, give us a call.
You misplaced your keys.
Your door locks are rusted or worn out.
One of your keys was taken.
Someone broke into your residence.
You relocated to a new home.
With our proper guidance, you can select the ideal replacement locks for your property. Our top considerations when choosing new locks are security, upgradeability, and price. We replace locks to give your home and belongings maximum protection without emptying your wallet.
Things to Consider Before Changing Your Door Locks
Security
When you are replacing the locks on your doors, the first thing you should think about is how the change will affect the safety of your home or business. Make sure that the new locks offer your property the highest possible level of security. Installing locks of good quality and durability that are difficult to crack is another thing you need to do to make your house more secure.
Upgradeability
Invest in door locks that have the capability of having their functionality easily improved in the future. They should be responsive to any technological advances that would improve their functionality and do so as quickly as possible.
Cost
There will be a range of pricing for the various door locks available. As a result, it is essential to search for door locks within your price range without breaking the bank. You are free to contact us whenever you need to change your existing locks with new ones because the door locks provided by our business are of high quality, and our prices are reasonable. We offer prompt, high-quality door lock installation services performed by trained professionals, all of which increase the level of safety at your location.
Changing Your Door Locks Will Improve Your Security
Investing in a new Door Lockset is the best way to ensure that you are the only person with a key to your house or place of business. New Door Locks will improve your safety and peace of mind and your property's security. Previous tenants, employees, realtors, or builders' agents may have been able to enter your home or company at one point, but these individuals are no longer allowed to do so.
Rekeying your existing locks will give you a new key and change the tiny pins inside the lock; moreover, in many situations, there are more secure approaches than this. Over time, the delicate springs within a lock become worn out, making it simpler to pick the lock. Your doors may be opened more efficiently and with less effort, if the bolts become loose over time, no longer align correctly with the striking plates, or even fail to enter the bolt holes securely. You have undoubtedly already observed this happening. If this is the case, a burglar may not require any tools to enter your house or business. Changing the Door Locks on your home can provide you and your family with a higher level of safety, especially if your home is older and has locks that are not as strong as they once were.
In other scenarios, your outdated lock may no longer provide any level of security at all. After an unsuccessful attempt at the forced entrance, the sophisticated mechanism is regarded to have sustained damage that is irreparable, leaving you exposed. To ensure that you are always safe when working with us, we provide a rapid installation service for all the new locks that we carry, available around the clock.
The Top Option for Your Safety and Protection
San Leandro Locksmith Service provides a 24/7 locksmith service that is both quick and friendly. We are here for you when you are ready for the most dependable and secure solution for your home or company in San Leandro, California, and the surrounding area. Our clients may depend on our highly skilled professionals, who have more than five years of expertise, as well as our mobile locksmith service, which guarantees a response time of 15 to 20 minutes. We are the answer that is both safe and secure, as well as licensed, bonded, and insured.