Commercial locksmith in San Leandro, CA
Are you looking for a Commercial Locksmith in San Leandro, CA? If yes, then you are at the right place. Our company offers a wide range of commercial security solutions, including highly secure locks, master keying, master key systems, and specialized electronic systems, meeting the highest industry standards with complete certifications and approvals from leading lock manufacturers.
We help you choose the perfect solution, from your needs to your budget.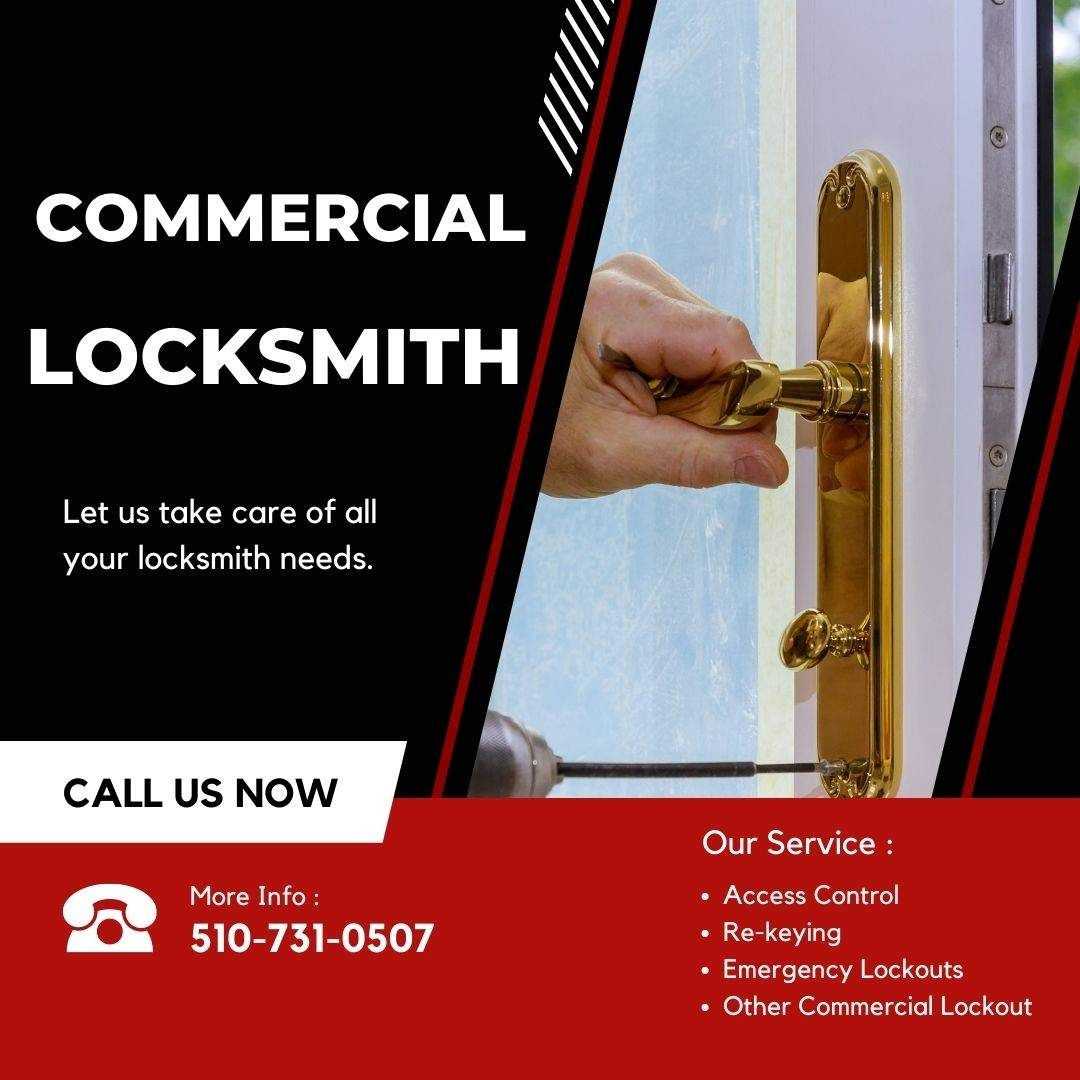 San Leandro locksmiths are specialists in providing commercial locks and essential services. Here we provide our clients with any door lock they need and access control systems installation and maintenance services. Our employees are highly trained and experienced, so come to us if you require high-quality locksmith services.
Choosing our locksmith company means choosing the best! Here you will get the best services provided by well-trained specialists. Call us at any time, and we'll fulfill all your requirements. Here, you will only be satisfied with our services!
The Need for a Secure Commercial Office
A business needs more security funding than a home does. First, the property within an office building or other commercial structure is far more expensive than the property at home. Everything is expensive to replace, from computers to business equipment. Because of this, offices and other commercial establishments frequently become the target of thefts and break-ins. Ensure your security system is adequate to stay one step ahead of the game.
Beyond merely securing the assets, you also ensure the safety of all your personnel. Keycard systems and similar devices ensure that only those who need to be in the facility are present. Additionally, locks are present to prevent somebody from being alone and, for instance, working late. One of the duties of a good employer is to maintain a secure building.
The hours that they are unoccupied is one crucial distinction between securing a house and a workplace. Nobody is inside the building during business hours, and the entire commercial district is unoccupied and dark because it is night. Your workplace must therefore be as securely locked as every other building on the street. That's exactly what San Leandro Locksmith Service does.
Our Wide Range of service -Commercial locksmith in San Leandro, CA
San Leandro Locksmith Service is available 24 hours a day, seven days a week, to assist you with any lockpicking or locksmithing needs. We are available 24 hours a day, seven days a week. So, if there is ever an emergency, we are ready. Aside from that, all of our locksmiths have been experts in a wide range of locksmithing expertise. We assure your protection.
Keycard systems are becoming increasingly common in businesses. It is a brilliant concept to limit access to individuals who work in the building, and this strategy protects everyone.
You can also install an access control system that unlocks the gate to the corporate office's parking lot.
Everyone's cars remain secure throughout the day, and everyone who needs access has it. Another advantage is that it may be controlled remotely from within the office.
REKEYING LOCKS AND KEYPADS
If you need to replace the locks on your place of business, we have you set.
After a security breach, you may be required to switch to a new key or code. Or your locks may be damaged.
Rekeying is more cost-effective and convenient than replacing a whole locking mechanism.
The experts at San Leandro Locksmith Service can quickly restore the safety and security of your building.
Call 510-731-0507 immediately if you find yourself locked out of your office. We are aware of how stressful lockouts can be in the workplace. From the outside, you cannot accomplish anything. In addition, if you are supposed to be working with clients, you are holding them accountable.
It can be distressing to rummage through one's pockets till the realization washes over one. People are relying on you, you cannot afford to lose time and productivity, and you have just through the morning rush hour. Contact us as your 24-hour locksmith. We can reach you at any moment. And we will arrive as quickly as possible. If traffic in the San Leandro area cooperates, we will contact you in fifteen minutes.
San Leandro Locksmith Service can put in almost any kind of lock hardware, from locking doors and desks to protect personal records to master key systems. Don't worry if it seems hard to choose the right lock hardware because there seem to be so many options. Our experts can help you find the right ones for your building and make sure they are installed safely.
Mobile Vans for Locksmithing Services
Our professionals arrive at your location in their mobile units that are ready with the parts, tools, and locking systems necessary to provide your required services. Since we have mobile locksmith vans, San Leandro Locksmith Service can provide the required assistance. Our lock experts receive ongoing training on the newest developments in security systems; as a result, they can provide the highest possible level of customer care.
This is one of the many ways we ensure the highest possible level of service.
San Leandro Locksmith Service is your best option if you operate a company and need a reliable commercial locks service in the Leandro, California, area. If your company is located in this region, call them today. Call us at 510-731-0507 to learn more about how our services may improve the safety and convenience of your commercial establishment.
Contact the San Leandro Locksmith Now!
Therefore, if you require any of our commercial locksmithing services, contact San Leandro Locksmith Service without hesitation. As your 24-hour mobile locksmith, we can get you out of any lockout issue. In addition, our commercial locksmith services cover the installation, replacement, and repair of all types of locks.
We can install a top-of-the-line security system at your business. Alternatively, we will provide you with new spare keys. San Leandro Locksmith Service is knowledgeable with every type of key and lock. They are licensed and insured, so you can rest assured that the work will be of the highest standard.
Dial 510-731-0507 to reach our professional locksmiths.